Custom Business Applications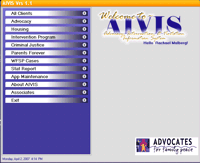 AIVIS
Advocacy, Intervention, and Visitation Information System
AIVIS
was developed for Advocates for Family Peace in Grand Rapids, MN and is a secure, multi-user database used to record contacts, services provided, and any additional information required to track and report agency activity to grant providers and government agencies. It also allows for easy research of a contacts service history with the agency, as well as their relationships and the relationships service history.
For more information about AIVIS please contact D2 or Melissa Scaia; director of AFFP - Grand Rapids, MN at (218) 326-0388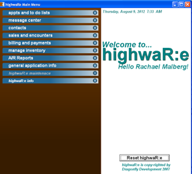 highwaR:e
highwaR:e was developed for Wheelchairs Plus Inc. (www.wcpHello.com) in Grand Rapids, MN and is a secure, multi-user database used to manage inventory, staff, sales, billing, AR, plus much, much more.

Websites
These sites are all done since becoming a freelance webmaster/programmer and do not show their Content Management System or custom business programs. Please call the number below or send an email to schedule a demonstration of these systems.
Full Content Management Web site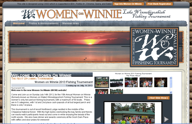 URL:
www.WomenOnWinnie.com
Site Description:
The Women on Winnie website is a Coldfusion, Ajax, and jQuery; social network website that allows members to register for tournements, post news and pictures, as well as see the latest the scores. It also allows tournement managers to confirm registrations, manage tournement information, and post scores.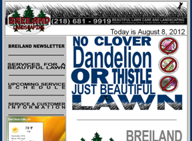 URL:
www.BreilandLandscaping.com
Site Description:
Breiland Landscaping out of Thief River Falls, MN is small family run buiness that wanted a website they could post thier newsletter and maintance schedule.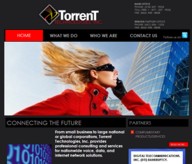 URL:
www.TorrentTechnologies.com
Site Description:
Lorrie is a very busy owner in an ever changing business and need a site that she could quickly and easily maintain. Her custom CMS (content management system) was design to be just that...FAST AND EASY!
Qty
Item
1
Site Design and Graphic Development
5
Dynamic Pages
(Includes CMS and training to use CMS.)
1
Rotating News Section
1
Twitter Incorp Page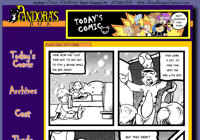 URL:
www.FreeRangeComics.com
Site Description:
Doug is a talented artists who wanted a Web site to post his comics, art work, and blogs for the next 100 years. He also wanted to archive his work and didn't have the time to learn any programming. After listening to his needs and reviewing his work I came up with the comic design and created a completely dynamic Web site and a Content Management System (CMS). The CMS is a secure online application that Doug signs into with a few simple forms that when completed updates and archives his Web site instantly.
Qty
Item
1
Site Design and Graphic Development
4
Standard Dynamic Pages
(Includes CMS and training for Today's comic, gallery, tirade, and characters.)
1
Advanced Dynamic Page
Site cost does not include domain name registration or site hosting. Hosting is through Bluehost for $6.95 a month and includes domain name registration.

I was not only extremely impressed with her knowledge and talents, but also pleasantly surprised that she was a delight to work with.

-Douglas A. C. Kallberg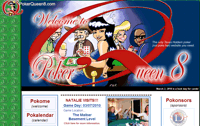 URL:
queen8.dragonflydevelopmentmn.com/
Site Description:
Poker Queen 8 was a website to manage a tourney organizer's events. It is no longer used but it was a fun site to do so I kept it under my site.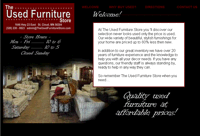 URL:
www.TheUsedFurnitureStore.com
Site Description:
The Used Furniture Store Web site started as a single page site with limited information. After the increase in store traffic due to the basic site and customer feedback, Mr. Kosel has improved the information and look with great success.
Qty
Item
1
Basic Site with the ability to post Inventory Ads
(Includes - Design, Graphic Development, a few standard pages including a basic Contact Us or Links page, and 1 dynamic page that is easier to manage then a craigslist add, plus complete project management with SEO.)

[D2] took the time to really listen to my needs and came up with exactly what I wanted.

-Mike Kosel
Integrated PayPals Pro plus Dynamics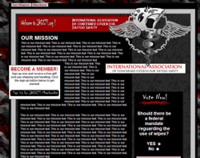 URL:
Sub Domain of Mine
Site Description:
The IACCTS (Internation Association of Concerned Citizens for Tattoo Safety) website was designed as a member sign up, polling, and member gift purchases. Unfortunately the client was never able to complete it but it is still a functioning site with PayPals intergration.
Web sites containing Flash Animations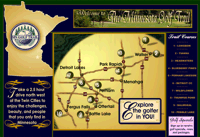 URL:
A sub domain of mine
Site Description:
This Web site is is a great demonstration of how to use Flash for navigation and entertainment. In addition to the flash, D2 is manager of an email collection list for promotional e-mailings and newsletter.
Qty
Item
1
Site Design and Graphic Development
4
Standard Pages
(Home, Sign Up, Thank you, and Golf course links)
2
Flash Animations
(Home navigation and Thank you page golf ball)
Misc. Web sites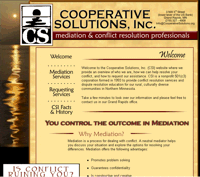 URL:
www.CooperativeSolutions.org
Site Description:
Cooperative Solutions Inc., is a non-profit organization that wanted a website and brochure for a few years but didn't know how or what that entailed. I worked closely with them and described in detail the expectations and requirements involved in a website. As a result we came up with a visually interesting and informative site that met their needs with great success.
Qty
Item
1
Basic Site
(Includes - Design, Graphic Development, Up to 5 standard pages including a basic Contact Us or Links page.)
The Northern Minnesota Webmaster and Computer Programmer for Small Businesses.
21769 Mishawaka Road * Grand Rapids, MN 55744
(218) 999 - 9689